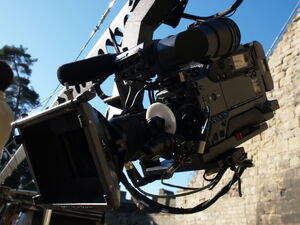 Welcome to 3rdeyebroadcast

[

]
3rd Eye Broadcast launched in 2000 and are a succesful Production company based in the Uk,but with a client base that spans the world. We have provided crews, and UK based production for clients from Japan, China, Australia, South Africa, France, germany, Austria, Ireland and of course, America. Our clients range from Blue chip Companies and iconic brands, to Broadcasters, Independent Producers, Production companies (including some ofthe top UK Indies) and a vast range of SME companies, Arts organisations, charities and PR agencies.
We have traditionally filmed on Digi-beta, HD, Hdv, and DVCAM / DV - but also have embraced the new Card-based work-flow and Xdcam formats as well as the new creative opportunities offered by cameras such as the canon 5D mark II.
3rd eye broadcast also has a Kit hire or video equipment rental arm, and provides crewing services in the UK. We provide PSC, ENG and EFP crews, as well as multi-camera crews for live events, conference-filming, news, and drama. Our kit hire and video equipment rental side offers jibs, cranes, grip equipment, Lighting, car mounts, steadicams and of course Cameras.
Our clients list is quite extensive indeed, and we cannot list them all here, but will add a few to give you an idea of the scope of the production experience and the diverse character and qaulity of the clients 3rd Eye have worked with.
Client List: (in no particular order and by no means extensive - merely as a guide)
BBC C4 Cadburys Brand Tescos Various Broadcasters from Japan, Australia, Germany, Austria, France, Italy, America American Express Ukonline Guiness (Diageo Group) Sodexo Endemol North one Television RDF The Gadget show Britain's most haunted (Antix productions) O2 Birmingham City Council Shred it Five percent Plastic pictures Knight Frank Learning and skills council Audi British cancer conference BMW Creation Theatre Company Birmingham Rep Arts council The Press Assocation Pedigree chum / Freud communications Budweiser / Inside Comminications Poppets UK tour MTV
Replace this with the name of your topic
[
]
Write an introduction to your topic here, to explain to your readers what your topic is all about!
Latest activity
[
]